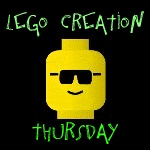 In our history book Story of the World we are studying the Assyrian's and their weapons of mass destruction! What did these folks in about 860 B.C. have as weapons to become a world powder?
Lets take a look at what the Assyrian's were facing as they conquered every country in their path so they could become the largest empire. Cities had walls around them. Well, the walls were only about 30 feet high (some higher) and some had an open space of about 15 feet, followed by another inner wall that was 12 feet thick. No big deal, right?
The Assyrian's used what is called a siege tower to attack the cities. For a project, the boys built the 3-sided tower with the 'battering ram' that was used to, well, ram the wall. Actually, the ram was shaped like an ax and was inserted between the stones of the wall. After many stones became dislodged the wall would collapse in that section. The archers stood inside the tower shooting arrows at the cities defenders on the wall.
Do you see the little solider peeking out?
I linked up with Michele from
My Blessings from Above
for her Thursday Lego Creation blog hop. Make sure you check her our if your children are interested in Lego's.